Hi Guys!
It has been a while since my last post and most of my previous blogs are related to ABAP. This time thought of writing an article on PI. This article shows how to send data from SAP though a Proxy interface to PI. In this example, PI convert this data to create a file.
If you need to set up Proxy Connectivity between the SAP back-end system and SAPI/PO for the first time, you can follow the steps in this article linked here.
ECC Proxy —->PI—-> File
I am using PI 7.31 single stack version and ECC 6.0.
In the example I would be sending FI document information from ECC to a file in application server. There are three main steps which needs to be carried out when creating this interface.
First, create PI interface.
Create data type of the sender and receiver
Create Message types of sender and receiver
Create inbound and outbound interfaces
Create message mapping and operation mapping
Create proxy sender communication channel.
Create file receiver communication channel.
Create configuration scenario and activate communication channels.
After PI interface is created. Import the interface to ECC through SPROXY transaction.

Finally create the program that fetch the data and call the proxy outbound interface in ECC.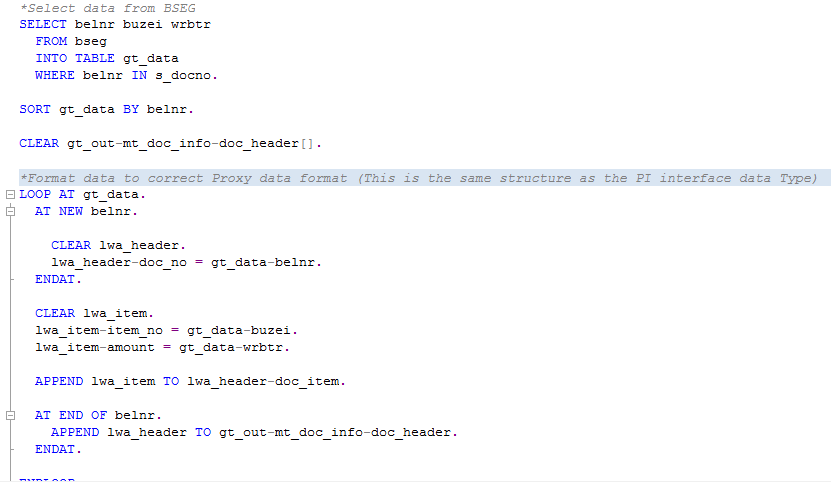 Test Scenario:
Trigger the Program using se38
PI Message Monitor results.
File created successfully with document data.
If you have any questions on outbound proxy interfaces, leave a comment below. If you are interested, you also check my example on Inbound ABAP Proxy and Fault Messages.
proxy interface, SAP PI, PI proxy interface, SPROXY, Integration, Integration directory, Integration repository, Message monitor, PI 7.3, PI Java, PI Java stack, PI single stack, File adapter, PI XML